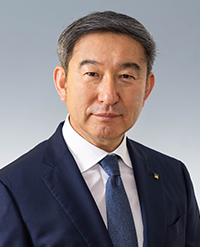 For our shareholders and investors:
 Since its beginnings at Tokyo's Tsukiji Market in 1953, where
Toyo Suisan began its business of exporting frozen tuna, the company has grown into a diversified food products manufacturer, currently engaged not only in the business of seafood products, but in cold-storage and food processing businesses as well. We have always striven to generate new value.
 We have created many long-selling products such as Maruchan Yakisoba chilled noodles, launched in 1975; Akai Kitsune Udon, launched in 1978; and Midori no Tanuki Ten Soba, launched in 1980. Maruchan Seimen, which was launched in 2011, has received high acclaim for creating new value in bag-type noodles.
 In 1972, we established Maruchan, Inc. in Los Angeles, U.S.A. as our local subsidiary and today have four plants in the U.S. that produce instant noodles and a structure to supply North America.
 We formulated the slogan "Smiles for All. Everything for a smile." in 2009, in the course of our development. The Toyo Suisan Group remains united in wanting to put a smile on the face of each of our shareholders and stakeholders through providing safe and delicious products and impeccable service.
We sincerely ask for the continued guidance and support of our shareholders.